PoppChopp FAQs
How is this product safer than a regular mandolin or other chopping devices?
The unique design prevents your hands from ever going near the built-in blades, making this tool the safest option for an expert slice.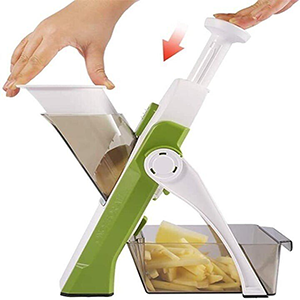 Does this cut more than one type of slice?
Yes, this is a multifunctional blade. The blades allow flexibility to easily cut, slice, shred, chop fruits and vegetables in shapes and sizes. Such as a potato, you can make it into wavy or normal slices, strips or mash it easily.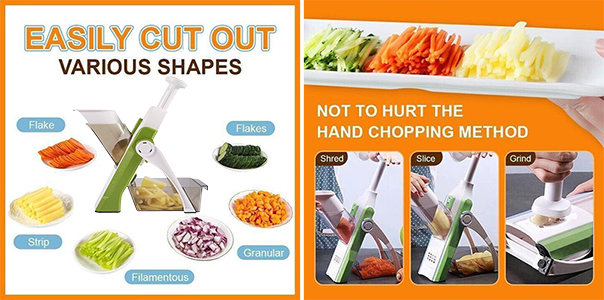 What thickness can this slice?
It can be adjusted for multiple thicknesses and shapes. 1.5mm (ie. for thin scalloped potatoes), 2.5mm, 3.5mm, 3inches long and 3mm thickness (ie. for fries), 3in long and 6mm (ie. for thicker fries)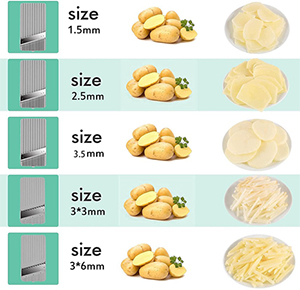 Does this help me save time in the kitchen?
Yes, it helps save time and effort. The Ultra-sharp stainless steel blade can help you shorten prep time compared with traditional blade slicing. This tool is easy to chop or slice veggies and fruits.
Is this difficult to clean?
This has an intention of easy clean design. The compact design folds down for easy storage, while the included brush eliminates buildup on the blades and food catch container keeps countertops clean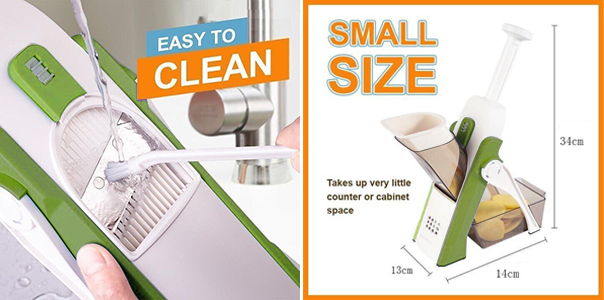 What material is this made out of?
This high quality material is mainly made of ABS material, does not contain BPA, non-toxic and tasteless, easy to clean. Does not produce harmful substances, you can rest assured to use.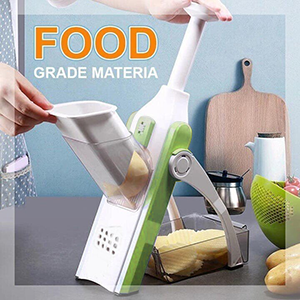 What kinds of foods can I chop with this? Does this chop meat as well?
The multifunctional vegetable tool is designed to chop all kinds of food, such as onion, potato, mushroom, cucumber, carrot, tomato, ginger, garlic, cheese, pork, pork belly, sausage, etc.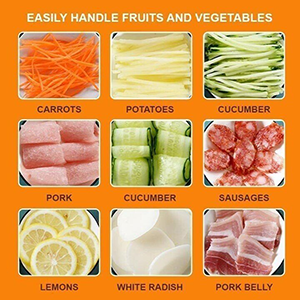 Product description :
Blade Material: 304 Stainless Steel【sharp and durable】
Package includes: Mandolin, Cleaning Brush.
Dishwasher-safe